Back to News
Patricia Brown Holmes, 2017 Vanguard Award Honoree
by

Riley Safer Holmes & Cancila LLP
The Black Women Lawyers Association (BWLA), during their 30th Anniversary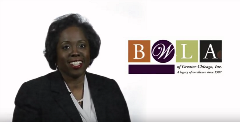 year, recognizes former BWLA President and founding member Patricia Brown Holmes, also immediate past CBA President, as their 2017 Vanguard Award recipient. The Vanguard Awards provide Chicago's legal community with a focal point that celebrates the accomplishments of diverse lawyers and organizations and fosters greater understanding and collaboration between the city's diverse bar associations.
15 of Chicago's diverse bar associations selected a recipient whose accomplishments have been particularly meaningful this past year and have had a great impact within the community.
View Patricia Brown Holmes's Honoree Speech
Learn More About This Year's Recipients And The April 6 Awards Luncheon.